CTRL-ALT-DEL is an emotionally-charged new play by award-winning writer and improvisor Jana O'Connor (CBC's Irrelevant Show) exploring cyber-bullying through the eyes of 3 teens set in the theatrical world of a carnival side show. Led by a ringmaster who may or may not be the Internet himself, the play, which was commissioned by Concrete Theatre with support from the Alberta Foundation for the Arts, explores issues of online safety, sexuality and sexual coercion and personal responsibility and care.
Appropriate for ages 12 and older
About the Government of Alberta's support of 2018's Consent:
"Theatre and story-telling are powerful ways to connect with teens, to learn about positive relationships and become respectful partners. I am proud to partner with Concrete Theatre on this creative approach to preventing sexual violence in Alberta."

Stephanie McLean
Minister of Status of Women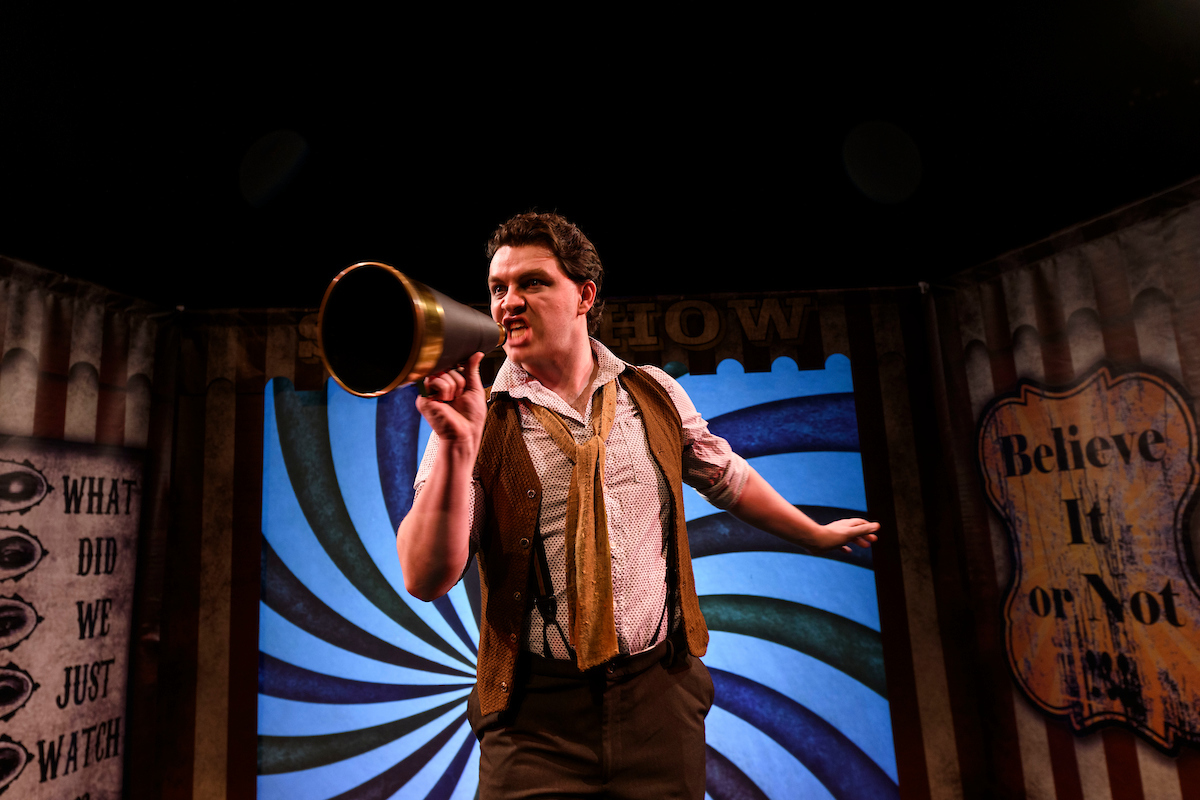 Show supporters
Credits
Written by Jana O'Connor
Director & Dramaturg Mieko Ouchi*
Assistant Director Corben Kushneryk*
Featuring
Natércia Napoleão*
Graham Mothersill*
Christopher Scott
Set & Props Designed by c.m. zuby
Projection Design by Kim Clegg
Sound Design by Dave Clarke
Lighting Design by Patrick Beagan
Stage Manager Heather Cornick*
Touring Technicians Daniel Belland & Erik Mortimer
Seamstress Betty Kolodziej
Public Educators (Sexual Assault Centre of Edmonton): Annette, Nikki, Saba, Scott, Shannah, Shannon, Steph, & Zak
Photos by Epic Photography Inc
*Concrete Theatre is a member of the Professional Association of Canadian Theatres, and engages, under the terms of the Canadian Theatre Agreement, professional artists who are members of Canadian Actors' Equity Association.
Resources
Wellness: Analyze the definition, effects, and possible consequences of various forms of harassment
Stress management: Analyze, evaluate, and refine personal communication patterns & conflict management skills.
Language Arts: Analyze choices and motives of characters.
Sexual Consent: Relationships, Boundary Setting, Decision-making, Communication.
Grades 7-9: Identify the effects of social influences on sexuality and gender roles & equity; examine the influences on personal decision making for responsible sexual behaviour; evaluate implications and consequences of sexual assault or harassment on a victim.
Grades 10-12: Identify expectations & commitments in various relationships; explain the role of trust & ways to establish trust in a relationship; examine aspects of healthy sexuality & responsible sexual behaviour; analyze strategies for choosing responsible & respectful sexual expression.
Interested in theatre in schools?
This is one of our past productions
Want to see what we're working on right now?